IS YOUR BIRD UNEMPLOYED??
(Look for clickable links to view products in article)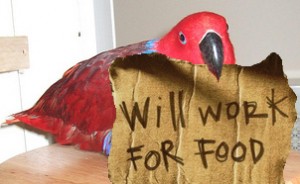 Photo courtesy of http://foragingforparrots.com/
Companion parrots and birds in the wild share some of the same behavioral characteristics, despite their environments being very different. Companion parrots have every meal readily available. Their food bowls are usually conveniently placed next to a perch. At first glance, bird owners believe they are being responsible and providing for their bird(s) needs. But, stop and think a moment. Imagine a bird's natural habitat - when was the last time you saw a bowl of food next to a tree branch?
Although a degree of controlled environment is necessary for our companion parrots, in order to provide for their safety, your bird may be denied what they enjoy most in the wild - hunting and picking for food; otherwise known as foraging.
Wild birds spend up to six hours a day foraging and additional time manipulating their food with their feet and beaks. When we deny our feathered companions foraging opportunities, we are not addressing their basic instincts. Denial of environmental enrichment is likely to lead to boredom related problems, such as excessive vocalizatiton, feather picking/plucking, or sleeping too much.
What can we as bird owners do to provide an enriching environment?
Scatter bowls throughout the cage, rather than simply placing them next to either end of a perch. Cover the dishes with a piece of kale or romaine. To increase the difficulty, place a piece of brown paper bag over the dish and attach with a small piece of masking tape on the sides. Initially, make sure your bird realizes there is food underneath.
Birdie Pinatas (such as the Lion, Monkey, Parrot, Small Lion, Kitty, etc.) are easy to fill with treats. Let your bird rip and tear at the pinata to discover the goodies inside.
Bird Paradise offers many acrylic toys that address both educational and foraging needs. The Four Drawers is a favorite and is a toy I personally own. It affords multiple foraging levels. At the beginning, place some treats or even toy parts inside the drawers and leave the drawers open. Next, fill with treats or toy parts and close the drawers. To make this toy even more stimulating, place treats or toy parts in a piece of brown lunch bag, twist to secure, and close the drawers. Finally, follow the same steps but in addition, place a small piece of masking tape to secure the drawers.
Other great acrylic toys are the Buffet Foraging Ball, the Hanging Buffet Ball Kabob, Four Corners Cage Mount, Hide N Seek (refillable), Foraging Wheel, Sphere Forager, and Capsule Forager. All of these toys are dishwasher safe. Make sure the Hide N Seek is free of any paper shreddables before washing.
A terrific foraging opportunity is found in the Happy Beaks Round Hanging Cage and Happy Beaks Hexagon Hanging Cage toys. The tops unscrew and the toy can be filled with raw vegggies like broccoli, string beans, kale, apple chunks, etc. You can also mix it up with toy parts and fresh produce. The toys will lure your bird over and then while playing, they will undoubtedly be biting into healthy snacks. This toy provides endless possibilities.
Bird Paradise's own line of java wood toys can also be creatively turned into foraging fun. The Surprise Drum (Small and Large), Coco Eclipse (Small and Large), Coco Curly, Coco Monkey and Surprise Lantern (Small and Large) all have hidden places for treats or toy parts. These toys recently won awards at the Las Vegas pet industry trade show!
So..... ask yourself this question, is my bird(s) unemployed? If the answer is yes, it's never too late to put them to work. They will thank you for it :)